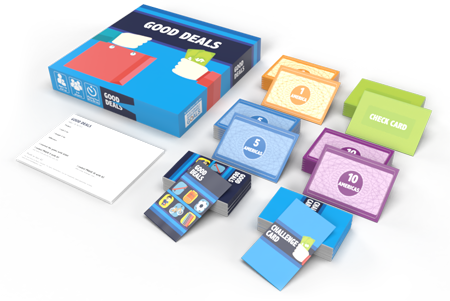 GOOD DEALS is a card game that offers great opportunities to encourage negotiation and to put to use entrepreneurship and investment skills . The object of the game is to make the most profit possible by buying and selling products. In the first phase, the players, after receiving an initial amount in bill cards, make bids to buy product cards. In the second phase, the product cards will be sold upon exchange for check cards, where the highest value product receives the check with the highest value. The game ends when everyone has sold their products. The player with the most money at the end of the game wins. The main idea of the game is to invest, work on the strategy, planning, decision-making, postponement of bonuses, good use of financial resources and observation.
Imagine that you want to be an entrepreneur and plan to start a business, for example, a store with various products such as dolls, tablets, school supplies and video games. In order to do so, you will need an initial funding and will have to plan the sale and purchase of products to make a profit. This is the object of the game: to get the player to use, in a playful way, the skills of an entrepreneur and investor.
GOOD DEALS, which is intended for ages 10 and up, is dynamic and fast. The game supports the development of the skills of an entrepreneur, such as strategy, planning, judgment, decision-making, postponement of bonuses, good use of financial resources and observation. In order to be successful, the player must face contingency that may be favorable or unfavorable to his/her goals. We hope this experience matters to you too!
---
TO CONTINUE PLAYING
In the image on the right, we have the A4 page with the Good Deals pad for you to print out and continue playing as much as you want.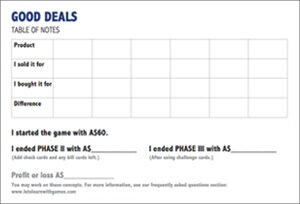 In order to keep on playing and learning, you just have to click, download the PDF file and print it!
---
Video – Tutorial: How to play!